Building Wealth
Selecting Stars from the Investment Universe
Why we chose funds from Dimensional Fund Advisors and Vanguard
November 09, 2017 •
3 minute read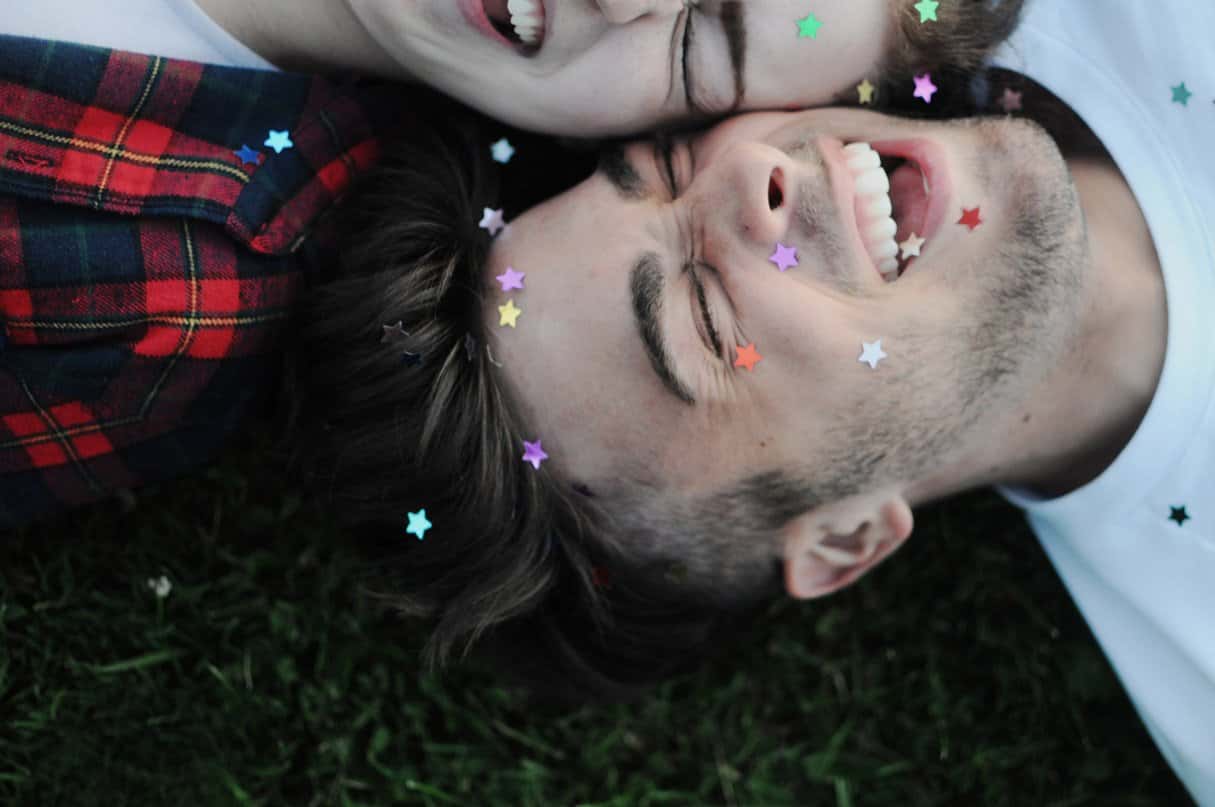 Peter Lazaroff, CFA, CFP® Co-Chief Investment Officer
There are 27,000 mutual funds, ETFs, and hedge funds available in the United States. Despite the enormous amount of choice available, approximately 1,800 new funds come to market each year. It's a tough task for anyone to choose between funds with this wide selection, so it's no surprise that many investors outsource the task to a trusted advisor.
As a registered investment advisor, it's our job to sort through the flood of investment products and sift through research on asset pricing to deliver solutions that give our clients the best chance of realizing their goals.
For over 20 years Plancorp has been managing assets for individuals and institutions alike, selecting investments to fit their goals with a disciplined, evidence-based approach. Our investment committee employed this same strategy when selecting funds for BrightPlan portfolios.
Because BrightPlan is independent, we aren't required to choose from a subset of funds like many broker dealers out there. Our investment committee can use any product in the world, but only a small segment of the fund universe aligns with our evidence-based approach to investing while also being low cost, rules-based, transparent and liquid.
BrightPlan portfolios currently include funds offered by two leading investment companies, Dimensional Fund Advisors and Vanguard.
About Dimensional Fund Advisors
Dimensional Fund Advisors (DFA) is one of the largest asset managers in the world, with over $500 billion invested in their funds. Founded in 1981, their unique approach to investing has propelled them to uncommon success.
Unlike traditional active managers who seek to outperform the market by picking stocks, Dimensional applies the findings of academic research in their trading and portfolio construction.
Their evidence based approach has bucked the abysmal performance trends of most managers. In the 15-year period between 2002 and 2017, 73% of Dimensional Funds beat their benchmark, while only 14% of their peers could boast the same.¹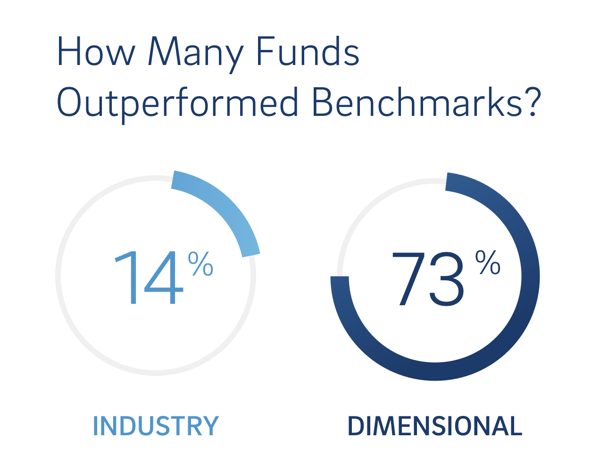 Most individual investors haven't heard of Dimensional. You won't see their advertising on a highway billboard or during a commercial break on the Golf Channel. And you can't buy their funds by logging into your brokerage account.
The only way to access Dimensional funds is through the use of an investment advisor like BrightPlan. Dimensional built their business this way because they believe in the value of an advisor, but this has historically restricted access to their funds because investment advisors tend to require minimum investments of between $250,000 and $1 million. BrightPlan is excited to change that by offering access to Dimensional to anyone with $500 to invest.
About Vanguard
Vanguard is famous for popularizing the "passive" indexing approach to investing. Founder John Bogle made index funds available to individual investors in 1976 after recognizing that the majority of mutual funds were charging high fees without adding much value to customers.
Bogle knew that by buying all of the stocks or bonds in a representative index, investors could get a market return at the fraction of the cost, keeping more of their money in the market to compound over time.
Vanguard's relentless mission to lower the cost of investing has driven down costs across the entire investment industry in a phenomenon widely known as "the Vanguard effect." The low cost approach has helped 94% of Vanguard's funds outperform their peer group averages over the past ten years.²
From the outset Bogle decided to put investors first by creating the first mutual fund company owned completely by the investors. Since the investors own the funds, and the funds own Vanguard, net profits from the business can be passed back to shareholders in the form of lower costs.
While Vanguard and index funds are synonymous, Vanguard is also one of the world's largest active managers in the world, with approximately 31% of their assets (nearly $1 trillion) in actively managed mutual funds.
Notes:
Performance data shown represents past performance and is no guarantee of future results. Beginning sample includes funds as of January 1, 2002. The number of beginners is: Industry- 3,545 and Dimensional- 29. Outperformers (winners) are funds with return observations for every month of the 15-year period whose cumulative net return over the period exceeded that of their respective benchmark. US-domiciled open-end mutual fund data is from Morningstar and Center for Research in Security Prices (CRSP) from the University of Chicago. Performance of each fund in the industry sample are evaluated relative to the fund's Morningstar Category Index. Dimensional fund data provided by the fund accountant. Dimensional funds exclude VA funds and those distributed exclusively through Loring Ward. Performance of Dimensional funds measured against prospectus benchmarks. When evaluating the Dimensional funds relative to the fund's Morningstar category index, 79% outperform. For further methodology details, see DFA's

Mutual Fund Landscape brochure

.

For the 10-year period ended March 31, 2017, 9 of 9 Vanguard money market funds, 51 of 54 Vanguard bond funds, 23 of 23 Vanguard balanced funds, and 124 of 135 Vanguard stock funds—for a total of 207 of 221 Vanguard funds—outperformed their Lipper peer-group average. Results will vary for other time periods. Only mutual funds and ETFs (exchange-traded funds) with a minimum 10-year history were included in the comparison. Source: Lipper, a Thomson Reuters Company.

The competitive performance data shown represent past performance, which is not a guarantee of future results.

Learn more.